The Supreme Court of the State of New Jersey rules on language barriers that essentially makes SpeechGuard a necessary item for law enforcement in New Jersey. This will probably serve as a precedent for other states to follow suit accordingly.
Law Enforcement SpeechGuard
The only hands free/eye free 2-way communication system and open development platform.
Current languages include Spanish, Arabic, Russian, Chinese (Mandarin), Polish, Vietnamese, Korean, Japanese, and Farsi (Persian).
SpeechGuard will help you when you pull over a non-English speaking driver.
SpeechGuard will help you get answers and participation quickly.
Situations are resolved expeditiously when you can speak their language instantly.
SpeechGuard eliminates misunderstandings within culturally diverse communities.
SpeechGuard removes the frustration of waiting for a translator to arrive and assist.

How does ECTACO SpeechGuard work? Very simply: you speak English - SpeechGuard speaks the language of your choice. It's that simple!

Thousands of commands, phrases, and questions can be issued without looking at the device. Phrases are designed to be 100% recognized in a hand free/eye free extreme noise environment. Speak up to 3 words and have a phrase completely issued. Establish multiple user profiles.

Text Translation
Two-way communication at it's best! Type a word or sentence in English or the target language and have it instantly translated into text and speech.

Cultural Notes
Get familiar with the cultural nuances of the communities you are dealing with.

Professional Audio Commands
Select any of thousands of industry specific phrases/questions and have them spoken in human voice instantly in the language you select!

Tactical Commands
Speak 2 or 3 keywords in high noise environments and have full phrases spoken on your behalf. All done hands free/eyes free!

Language Teacher
Learn to phonetically speak new languages accurately with the aid of an audio/visual analyzer!

Audio Player
Play MP3 files or record your conversations for future reference.
The ECTACO -SpeechGuard PD-5 has been developed specifically for the law enforcement community.
Our Test-to-Buy program allows you to determine whether the PD-5 is appropriate for your agency. Return your units to us within 30 days of receiving them and get a full refund with no questions asked. If you decide to keep your units, let us know what additional content (call for details) your agency requires and we can customize your units at no additional cost.
The price for SpeechGuard PD-5 is $950.

Your SpeechGuard purchase includes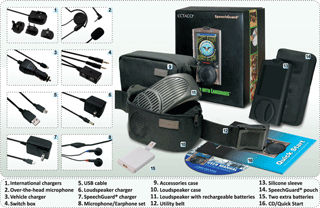 Interested in grants for SpeechGuard?
Call us at 718-728-6110 for a free promo kit or complete the following for more information.
News
Hillsborough police ease communication with translation device

Hillsborough officers report success with gadget, which translates up to 25 languages. "There's a lot of potential for this tool, especially in this area, where it's a melting pot," said Hillsborough police Officer Nick Chinca.
---
West Columbia Police Fight Domestic Violence with Technology

Officers will use electronic voice translators and undercover audio and video equipment that will help combat domestic violence. Officers say the electronic voice translators are able to enhance communication between officers and victims in multiple languages. Similar to a handheld PDA, officers can choose from pre-programmed phrases or add unique phrases that they need in order to better investigate domestic violence cases...
---
Summit County officers will use high-tech translator

Police in Summit County will soon have a new tool to help them deal with such frustrating and confusing situations — a high-tech, hand-held language translator. The county Emergency Management Agency has bought 36 SpeechGuards for local law enforcement agencies. The device works like this: You speak English and your words are interpreted aloud into one of nine pre-programmed languages.
---
Augusta County

It's been one year since the Augusta County Sheriff's Office purchased a translating device to help them better communicate with the community.

Sgt. Monty Sellers pushed to get the translating devices put into deputies' vehicles.
He says, "It's a tool that may save somebody's life. It's just a very good tool to have on hand."
The device takes a common law enforcement phrase, such as 'I'm stopping you for speeding,' and translates it to another language. Sellers says during the past year, this has come in handy numerous times. "In the traffic field, we've found them real helpful because what we've found out is somebody in the vehicle is may know English but they're all just playing stupid because they just don't want to correspond with what we're saying," says Sellers.

The devices are expensive, so the department only has three, but Sellers is hopeful more deputies will be able to use them. He adds, "We would like to expand it. We'd like to get one or two in each vehicle in each shift." Sellers says this small device is so important, he's hopeful more law enforcement agencies can and will purchase them to aid the people they serve. He says, "They're seeing a more population of Hispanics and most in law enforcement only speak English and this tool is just a stepping tool to open up the door and whereas we know we're going somewhere with it, we can bring in an actual human translator for court reasons."