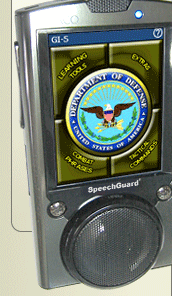 How It Works


User Benefits


Specifications


Downloads


Questions and Answers


Accessories


Custom Versions


The Company


Press Center


Contact Us


SpeechGuard Home Page



SpeechGuard® Frequently Asked Questions
1. How do I know that SpeechGuard® is saying what I want it to say?
When SpeechGuard® says a phrase on the user's behalf, the phrase it says is highlighted in English on the screen.
2. Can I say anything I want into SpeechGuard®?
No. All modifications of SpeechGuard® are preset with phrases. It will repeat a phrase that closest matches what you speak into it.
3. Can I add new phrases?
Yes. There is a tool within My SpeechGuard® which allows you to add new phrases, provided you have an interpreter available who speaks the languages you need. If you do not have access to an interpreter, Ectaco can add phrases for you (contact Ectaco for details).
4. Where do the preloaded phrases in SpeechGuard® come from?
All professional SpeechGuard® modifications received their content from a plethora of entities that the modifications were developed to serve. The PD-4 (law enforcement) was provided by over 60 law enforcement agencies; TS-4 (transportation security) content came from Transportation Security Agency officials; and GI-4 (military) content was given to Ectaco by US Armed Forces agencies.
5. Does SpeechGuard® translate from another language into English?
No.
6. How do I know what the subjects are saying back to me if I don't speak their language?
SpeechGuard® allows you to communicate with people when you want to issue concrete directives/orders or don't have time to wait for a human translator. The questions contained within SpeechGuard® provoke a yes, no, gestured or written response.
7. I have an accent. Will SpeechGuard® work for me?
Yes. The speech recognition engine in SpeechGuard® recognizes over 700 different speech patterns of English. If necessary, there is an adaptation tool that can be used to "train" SpeechGuard® to understand/recognize anyone's voice.
8. Is SpeechGuard® effective in noisy areas?
Yes. SpeechGuard® can be connected to a bullhorn, public address system, or loudspeaker. SpeechGuard® also comes with a powerful directional microphone that eliminates ambient noise for enhanced speech recognition.