Summit County officers will use high-tech translator
Units can turn phrases essential to police duty into 9 foreign languages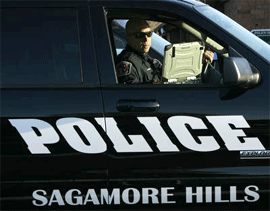 Sagamore Hills Sgt. Dan Rice knows firsthand what it's like to communicate with suspects who don't speak English. The SpeechGuard translator aims to solve that.
By Rick Armon
Beacon Journal staff writer
Published on Monday, Nov 10, 2008
For Sagamore Hills Township police officer Dan Rice, the situation was a nightmare.
Inside the bar, a man lay on the floor drifting in and out of consciousness.
Outside, officers tried to communicate with four Hispanic suspects accused of assaulting him. Three didn't speak English.
"We didn't understand them and they didn't know what's going on," Rice said, recalling the incident last year. "The one who spoke English was talking to the other guys and we had no idea what he was saying."
After the four were arrested, the officers had to turn to the Internet to translate the Miranda rights into Spanish.
"It's just a nightmare when you don't have the communication, especially when you have serious charges," Rice said.
Police in Summit County will soon have a new tool to help them deal with such frustrating and confusing situations — a high-tech, hand-held language translator. The county Emergency Management Agency has bought 36 SpeechGuards for $29,800 to hand out to local law enforcement agencies.
The device works like this: You speak English and your words are interpreted aloud into one of nine pre-programmed languages.
Of course, it doesn't interpret everything verbatim like the futuristic — and made-up — "Universal Translator" in Star Trek.
The SpeechGuard comes with more than 3,000 programmed phrases considered most handy for authorities, such as asking for a driver's license or telling someone to put his hands up. (Authorities also can manually select a phrase instead of speaking it.)
There's even a video screen that shows your comment written in the foreign tongue, whether that's Spanish, Arabic, Russian, Mandarin Chinese, Polish, Vietnamese, Korean, Japanese or Farsi.
A drawback is that it translates English, but not the foreign language back into English, meaning human interpreters won't become obsolete anytime soon.
More than 360 law enforcement agencies — including the Drug Enforcement Administration, Immigration and Customs Enforcement, and Ohio State Highway Patrol — are using the device, built by Ectaco, a Long Island, N.Y., company that makes hand-held electronic dictionaries and translators.
The SpeechGuard was designed for the military to communicate with Iraqis, but publicity surrounding the device sparked interest from law enforcement in the U.S.
"I had to tell everybody that we didn't have anything for them," said Tim Houston, company director of business development.
Because of the demand, Ectaco convened a group of U.S. law enforcement officials and created a SpeechGuard for police. It's been available for about four years.
The device has been helpful for authorities in areas with large immigrant populations, particularly those who speak Spanish. Only about 6 percent of Ohioans speak a language other than English at home, according to the U.S. Census Bureau.
"It would be something we could use every now and then," Macedonia Police Chief Jon Golden said.
But police and others warn that the device isn't perfect. For example, authorities still can't understand the suspect or victim, although the SpeechGuard also is designed to ask plenty of "Yes or no" questions.
Ohio troopers have reported that it would be more handy if the SpeechGuard also translated other languages into English so there was some two-way communication.
Isabel Framer, a Copley Township resident and chair of the National Association of Judiciary Interpreters and Translators, said the device could be useful for basic commands and low-stress situations. It also could eliminate the potential for mispronouncing an order.
"It's very dangerous if the officer doesn't pronounce the command correctly," she said.
The SpeechGuard also could put some non-English speaking people more at ease when dealing with police, said Rice, an acting sergeant in Sagamore Hills.
"I can see a lot of good things that could come out of this," he said.
For information about Ectaco, go to http://www.ectaco.com/.