Disaster Relief packages are now available for Emergency Response professionals.
Call for details
Transportation Security SpeechGuard
Issuing clear and understandable instructions to travelers for the benefit of their safety and others isn't always easy if they don't speak English. Those challenges may be critical ones without an interpreter available.
The ECTACO -SpeechGuard HS-5 has been developed specifically for the transportation security community.
The HS-5 understands thousands of commands spoken in English and is capable of pronouncing the translations in a variety of languages. Content within the HS-5 has been provided by TSA officials.
The HS-5 is ideal for situations when there's no time to wait for a translator to arrive. Speak into the unit and it repeats what you've said instantly. The HS-5 delivers loud, concise and even-tempered commands in any language. HS-5 content consists of phrases provided and used by TSA personnel.
Do you wish to issue evacuation instructions, boarding procedure or checkpoint directives? Connect SpeechGuard to an external amplification device such as a bullhorn, PA system, or loudspeaker and deliver your instructions. Use the "Announcement" function to repeat information or instructions in numerous languages continually.
20 languages are contained within the HS-5. The commands are helpful for use in airports, train stations, bus depots, Border Patrol field operations, Customs screening, etc.
Current languages in HS-5 are:
Arabic, Chinese (Mandarin), English, Farsi (Persian), French, German, Greek, Hindi, Italian, Japanese, Korean, Polish, Portuguese, Russian, Spanish (Mexico), Spanish (Spain), Tagalog, Turkish, Ukrainian, Vietnamese.
Order your SpeechGuard HS-5 now and let us know how you want it customized.
The price for SpeechGuard HS-5 is $950.
Your SpeechGuard purchase includes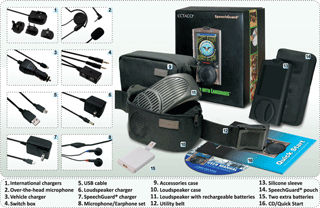 Call us at 718-728-6110 or complete the following for more information.